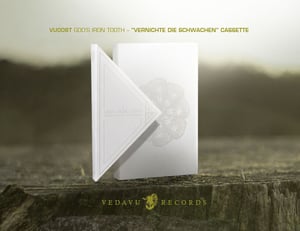 $

7.99
VU006T God's Iron Tooth - Vernichte die Schwachen - Cassette, Second Press.
**22 copies remain**
Recorded well over a decade ago, God's Iron Tooth's master work is finally ready to see the light of day. All three volumes of the Vernichte die Schwachen 10''s are collected here in one elegant package.
Professionally duplicated on high quality imprinted chrome cassettes and housed in a "cigarette" style box complete with insert and obi, each tape contains six tracks with a playing time of nearly eighty minutes.
Released on black cassettes with black imprinted labels, the second press of God's Iron Tooth's musical onslaught is limited to fifty copies.
Please allow 4-6 weeks for delivery. I strive to get any and all orders out as soon as I can. Your patience is greatly appreciated. I package all records the way that I like to receive records, packaged with the utmost care and attention to detail.