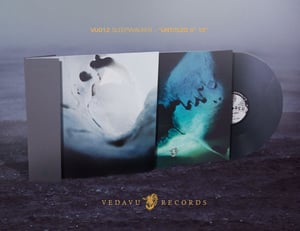 $

18.99
VU012 Sleepwalker "Untitled II" - Second Edition
Originally recorded between 2008 and 2010 and only available as a limited CDR, Sleepwalker's second musical output is finally getting released on vinyl.
Vedavu Records is proud to present the second pressing of this three song 12" remastered for the highest sound quality. Pressed on grey vinyl this record comes housed in a full color, single pocket jacket, with a 12" printed inner sleeve and a letter pressed obi strip.
Limited to an edition of one hundred twenty five copies, Sleepwalker features Michael Rekevics of both Fell Voices and Ruin Lust.
As a bonus one copy chosen at random will include a copy of a test pressing from this release.
Please allow 4-6 weeks for delivery. I strive to get any and all orders out as soon as I can. Your patience is greatly appreciated. I package all records the way that I like to receive records, packaged with the utmost care and attention to detail.