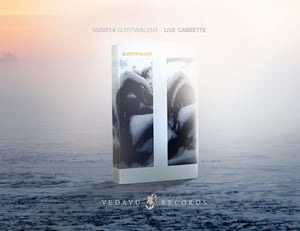 $

7.99
VU014T - Sleepwalker - Live - Cassette
Recorded live to soundboard at the Gilead Media festival on 4/29/2012 in Oshkosh Wisconsin. Each copy is housed in a two color, letter pressed O-card along with a full color bi-fold insert. All cassettes are professionally duplicated on high quality imprinted chrome plus cassettes. This will be a one time press of 125 copies.
Track list is as follows
I. Born of Dream
II. Sleepwalker
III. Ecstatic Unknown
IV. Bestial Instinct
These versions offer a rare and interesting experience then what is offered on the 12"s that are also available, I can not recommend this recording enough.
Please allow 4-6 weeks for delivery. I strive to get any and all orders out as soon as I can. Your patience is greatly appreciated. I package all records the way that I like to receive records, packaged with the utmost care and attention to detail.