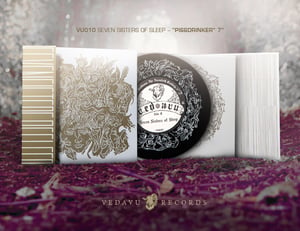 $

11.99
VU010 Seven Sisters of Sleep 7"
**26 remain**
Vedavu Records proudly presents the second edition of the Seven Sisters of Sleep Pissdrinker 7". Featuring two new tracks interlaced on a single sided 7", this release comes housed in a stunning letter pressed "Arigato" pack accompanied by a 7"x14" lyric sheet and large obi stripe.
The first track was recorded during the same session as their 12" split with Children of God. The second track, recorded specifically for this 7", is unlike anything they have ever done before. The second edition of this release includes a new silkscreened B-side. Limited to one hundred ten copies.
As a bonus one copy chosen at random will include a copy of a test pressing from this release.
Please allow 4-6 weeks for delivery. I strive to get any and all orders out as soon as I can. Your patience is greatly appreciated. I package all records the way that I like to receive records, packaged with the utmost care and attention to detail.